New & Used OMEGA Watches for Sale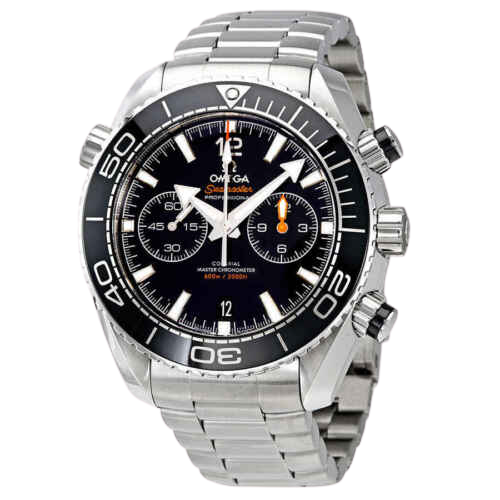 OMEGA Watch Buying Guide
Swiss-made Omega watches have been to the Moon and to the greatest depths of the Earth's oceans. Nearly every Olympic record was timed by one. Countless celebrities, athletes and world leaders prefer them for their timeless style, legendary accuracy and precision.
Since Louis Brandt founded the company in 1848, Omega has produced collectible mechanical and quartz watches with designs and features that have changed the way watches are worn, manufactured and maintained. Today, Omega produces approximately 750,000 watches per year and has annual sales of roughly $2 billion, making it the world's second largest watch brand (after Rolex).
Originally named "La Generale Watch Co.," the company was rebranded "Omega" in 1903 after it introduced the 19-linge calibre. It was the first modular movement where every component could be replaced with factory-made parts, an innovation that transformed the way watchmakers repaired timepieces.
In the decades since, Omega has released dozens of variations of the Seamaster, Speedmaster, Constellation and De Ville collections. Stainless steel versions of the mechanical Speedmaster and Seamaster remain the most sought-after Omega used watches, though precious metal variations, quartz watches and the other collections are also popular among watch enthusiasts, collectors and used Omega watch buyers. Every Omega watch carries a unique serial number that can be used for dating. Omega offers its "Extract from the Archives" service to provide vintage and used Omega watch owners with a factory-certified history of any Omega timepiece.
OMEGA Facts & How to Check OMEGA Watch Authenticity

Omega watches have a long history of innovation, style and precision for men and women. While the company has long offered a wide product line, certain traits cross the lines between collections:

All Omega watches are made in Switzerland.
All Omega watches are water resistant to varying depths, depending on the model.
Omega recommends a water-resistance test every year and a complete service every 5 to 8 years.
The Co-Axial escapement is a major innovation introduced commercially by Omega in the 1999 Omega De Ville's calibre 2500 movement. The Co-Axial escapement improves accuracy over time. Because it requires no oil and reduces friction in the movement, it extends service intervals considerably.
Omega watches are prized for their accuracy and reliability in extreme environments, from space flight to the bottom of the Marina Trench, 10,925 meters below the ocean. They are able to withstand tremendous pressure, temperatures, shock, altitude and magnetism without fail.
All Omega watches have serial numbers that can be used to date vintage and pre-owned models. Note that the serial numbers on newer models can be found on the back of the case. Vintage Omega watch serial numbers may be inside the case or on the movement. Because it may take considerable effort to locate the serial number on vintage models, sellers often do not include them in their listings.
Top Models of New & Used OMEGA Watches for Sale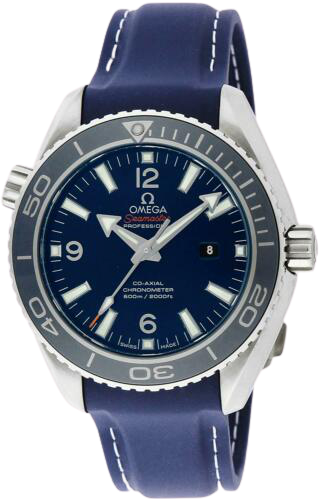 Seamaster

The Seamaster debuted in 1948 and is Omega's longest-running production model. Many know it as the James Bond watch—it has adorned 007's wrist in every film since 1995, but the history goes far deeper. A true diver's watch, the Seamaster was inspired by the waterproof wristwatches of the British military. Omega established itself in 1932 as the dive watch leader with the Marine watch, which was waterproof to 135 meters. While the Marine incorporated a double-sealed case, the Seamaster's rubber O-ring gasket dramatically improved water resistance and proved to be unaffected by the changes in depth and temperature that caused other dive watches to fail.

Modern Omega Seamaster watches incorporate precision movements that feature Omega's co-Axial escapement, anti-magnetic materials that protect the movement from magnetic forces and water resistance up to 300 meters. Vintage Omega Seamaster watches are highly collectable for their style and function. Stainless steel versions are particularly popular, though gold, platinum, titanium and other metals are also available.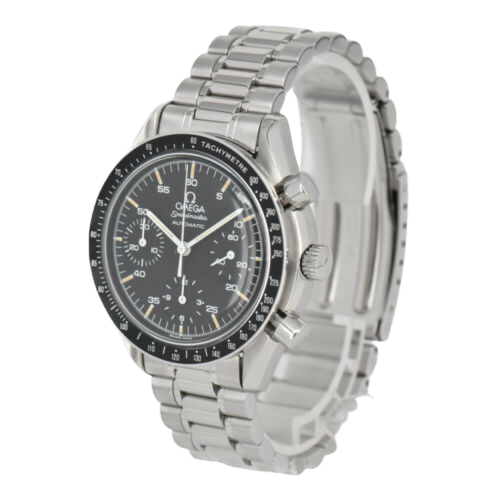 Speedmaster

The Speedmaster was designed for racing and sports. It first appeared in 1957 and featured the calibre 321 movement, an updated version that is still used in the modern Speedmaster Moonwatch. The case was updated to the familiar asymmetrical design in 1962 and is largely unchanged on modern models.

Omega Speedmaster watches achieved broad notoriety for travels aboard the Apollo 11 mission to the moon. After Mercury astronaut Wally Schirra wore his personal Speedmaster in 1962 on a mission that orbited the Earth six times, Omega added "Professional" to the series name. Shortly thereafter, NASA began an extensive testing and qualification program to identify a wristwatch capable of handling extreme altitude, temperatures, pressures and shock. In 1965, the Omega Speedmaster became the only watch qualified for space flight, solidifying the connection between NASA and Omega and setting the course for the creation of the Moonwatch. The Speedmaster collection includes dozens of models, along with several prized limited-edition series produced with various Omega movements and features in a variety of metals.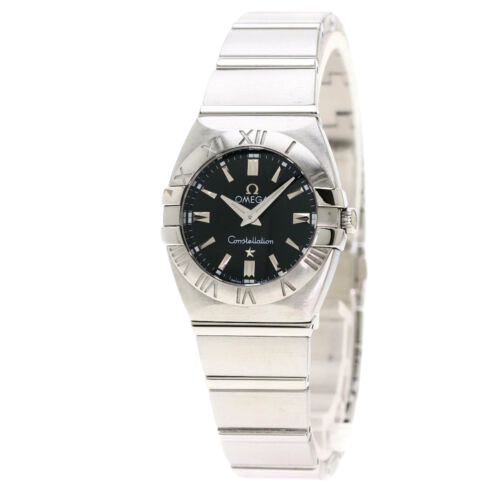 Constellation

Omega launched the Constellation series in 1952. The first designs featured a star just above 6:00, an ornate caseback with an engraved Observatory of Geneva and a unique "pie pan" dial. The series was originally designed for men, but Omega soon expanded to include styles formatted for women. Over time, unique shapes, sizes, design elements and integrated bracelets were introduced.

The line expanded considerably when quartz movements became popular in 1970. Quartz movements allowed Omega to offer ultra-thin variations and space-age looking designs that appealed to the styles of the decade.

In 1984, Omega reintroduced mechanical movements to Constellation and has been producing the series with a choice of quartz, automatic and manual movements in a wide variety of styles, sizes and materials ever since.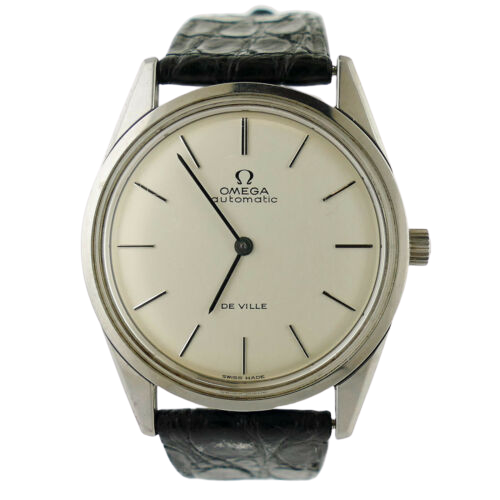 De Ville

Omega introduced the De Ville series in 1967, though the first Omega watch called "De Ville" was part of the Seamaster collection in 1960. The Omega De Ville series was designed to appeal to a wide audience with a simple, sophisticated design that stood in contrast to the company's sports-oriented Seamaster and Speedmaster.

Today's De Ville series includes the Ladymatic, Prestige, Tresor, Hour Vision, De Ville and Tourbillon collections. Available with automatic and manual mechanical movements as well as quartz, the De Ville series is Swiss made and includes a wide variety of case sizes, materials and styles, from dress to sporty.